Media: Press Releases | 03 September 2018
Drums, Flowers and Kisses in Hogan Lovells new Penson Lounge
Hogan Lovells' new Penson Lounge in London will play host to 'Drums, Flowers and Kisses', an art exhibition by prominent Nigerian artist Sokari Douglas Camp CBE.
Opened to clients this summer, and with the official dedication on 2 October, the Penson Lounge is part of the wider refurbishment of the firm's London office, Atlantic House. Sokari's work will be the first exhibition hosted in this modern, multi-purpose space.
Last year, Hogan Lovells Africa practice and London Multicultural Network celebrated Black History Month with an exhibition about BAME graduates and their families, Where I come from, by Bill Knight; and the London office also displayed a photography collection in support of the firms' global TOUCH charity, Barefoot College. Previous photography exhibitions hosted include a Supercharge photography exhibition of bespoke prints signed by Para-athletes, photographed by Tom Barnes, to mark the Rio Paralympics in 2016 and our support of British Para-sport; and in 2015 100 Leading Ladies by Nancy Honey, as part of Hogan Lovells' commitment to empowering girls and women.
This year, from 6 September to 5 October, Sokari's large scale works of steel will be on display, demonstrating our appreciation of African art and culture and commitment to understanding, operating, investing in and respecting Africa.
Head of the Hogan Lovells Africa practice and Board of the Smithsonian National Museum of African Art in Washington D.C., Andrew Skipper, said:
"I am thrilled that my friend Sokari has agreed to show some of her work in our new space. Sokari is a truly great artist with a passion for work and for life and her beliefs. I have known her only a short time and am the better for it. When I saw these works in her workshop and recognised the coming together of artisan and art which reflect her contemporary passions in a classical context, it was obviously crazy that they should remain stuck without a wider audience.
"Sokari spoke at our Africa Forum last year and her words and her work helped support the critical pillars of our practice where we undertake to understand and respect Africa, as well as investing and operating in it. We also want to enjoy it and have fun - this exhibition delivers on all fronts, and I'm proud that Sokari has let us into her own world."
Susan Bright, Regional Managing Partner for the UK and Africa, added:
"Our new Penson Lounge is designed to be a welcoming and collaborative space for our clients, which can be used in a variety of ways, including for exhibitions of art and sculptures. Since my responsibilities span both the UK and Africa, I am particularly delighted that our first exhibition highlights the work of such a well-known Nigerian/ British artist. Our strong ties with the Nigerian and African art communities and commitment to empowering girls and women make this exhibition a perfect fit and we are excited to share it with our clients."
About the artist:
Sokari Douglas Camp CBE was born in Rivers State Nigeria. She studied fine art at Central School of Art and Design and at the Royal College of Art. Sokari has represented Britain and Nigeria in national competitions and exhibitions and has had more than 40 solo shows worldwide in venues such as the National Museum of African Art and the Smithsonian Institute (1988-89), where her show opened the newly designed building. Her exhibition at the Museum of Mankind Burlington Arcade London (1994-5) was highly commended during Africa 95.
Sokari's public Artwork includes 'Battle Bus', a Living Memorial for Ken Saro Wiwa (2006), a full- scale replica of a Nigerian steel bus which stands as a monument to the late Niger Delta activist and writer. The Bus has been confiscated in Lagos, and she is working to have it released.
'Drums, Flowers and Kisses' is an opportunity to see Sokari's large scale works in person. The works are Africanised made in steel by the artist and are rich in context and form. To arrange a viewing please contact: su.davis@hoganlovells.com.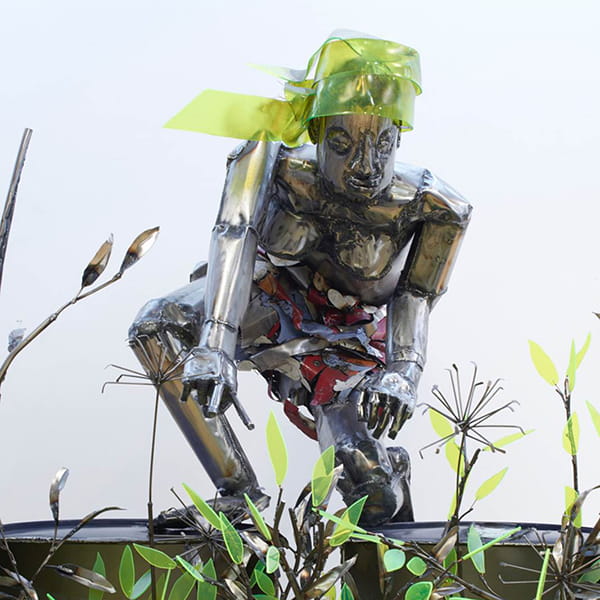 Share
Back To Listing
---