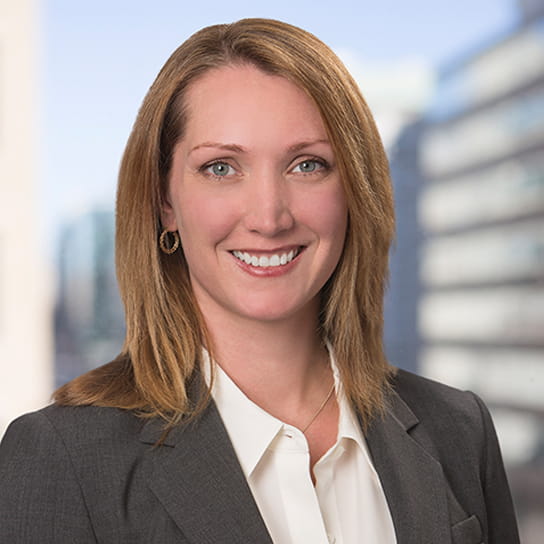 Danielle C. Humphrey excels at comprehensive regulatory strategy and medical device life cycle management. A former assistant general counsel of Wal-Mart Stores Inc., she understands the pressures businesses face in the highly regulated life science industry.
Danielle routinely draws upon her experience in the industry and firm grasp of medical device law and regulation to yield innovative and practical solutions for her clients.
Danielle advises clients on the U.S. Food and Drug Administration's (FDA) regulation of medical devices and combination products. Her practice focuses on analyzing complex legal challenges and developing premarket regulatory strategy for novel and innovative medical device and general wellness products, including digital health and artificial intelligence-based technologies, in vitro diagnostics, and women's health products, among others. She prepares regulatory submissions, advises on responding to FDA requests for information, and advises on when postmarket modifications require new clearances or approvals from FDA.
Danielle also advises on the requirements for promotion and advertising of medical devices in the United States, including training client teams on applicable legal and regulatory requirements, reviewing print web-based promotional materials and social media posts, and drafting standard operating procedures (SOPs) that drive regulatory compliance.
Danielle assists in the defense of criminal investigations by the U.S. Department of Justice and responding to FDA enforcement actions. She conducts regulatory due diligence and assists in negotiating corporate mergers and acquisitions and initial public offerings involving medical devices. Danielle assists her clients with the negotiation of regulatory contracts such as clinical trial agreements, consulting agreements, influencer contracts, private label agreements, and quality and supply agreements, among others.
Education and admissions
Education
J.D., Duke University School of Law, 2007
Sc.B., Brown University, with honors, 2001
Bar admissions and qualifications
District of Columbia
Representative experience
Developed a successful regulatory strategy for a women's health startup to bring a wellness product to the U.S. market while pursuing the de novo pathway for a medical device.
Assisted with hundreds of premarket submissions for diagnostic and therapeutic medical devices, including pre-subs, IDEs, 510(k)s, de novo requests, and PMAs.
Audited post-clearance device modifications for global medical device firms and developed new SOPs and remediation plans to bring modified products into compliance.
Advised clients on advertising of cleared and approved medical devices and created promotion guidelines to comply with FDA requirements and government settlement agreements.
Assisted a leading orthopedic device company with an investigation related to sales and marketing practices.
Assisted large, multinational device companies with the acquisition of several medical device manufacturers.