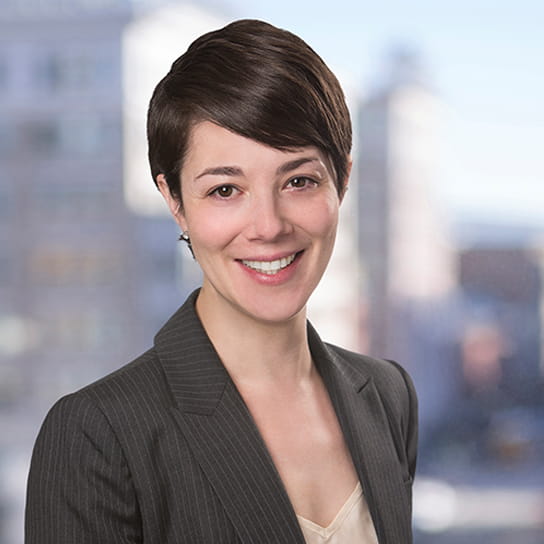 Consumer financial services is one of the most regulated industries in the nation. Chava Brandriss defends financial institutions against claims by consumers, with particular focus on the residential mortgage lending and servicing industry. She also assists financial institutions by providing compliance advice, preparing clients who are anticipating litigation, assisting with government investigations, and advocating to government agencies on behalf of her clients.
With exceptional depth of knowledge and experience, Chava understands the increasingly complex array of federal and state laws regulating financial institutions. For the past 10 years she has litigated claims alleging violations of a variety of consumer protection statutes, such as the Fair Debt Collection Practices Act (FDCPA); Fair Credit Reporting Act (FCRA); Equal Credit Opportunity Act (ECOA); Truth in Lending Act (TILA); Real Estate Settlement Procedures Act (RESPA); Home Ownership and Equity Protection Act (HOEPA); the Unfair, Deceptive and Abusive Acts or Practices provision of the Dodd-Frank Act (UDAAP); and their state law equivalents. Chava's familiarity with the broad range of consumer financial protection regulations and laws helps her clients who may be dealing with the increasing appetite of regulators to pursue investigations and enforcement actions. Chava understands the challenges that the consumer financial services industry faces, and works tirelessly to assist clients in avoiding future risk and minimizing potential exposure.
Chava's experience as an appellate litigator helps her bring an appellate perspective to each stage of litigation. She makes sure the legal strategy is clear and concise from the start and adequately preserved. She has crafted over 100 appellate briefs and arguments that engage the reader and tell a concise and compelling story. Her appellate practice also extends beyond the financial services industry to matters involving music performance rights licensing and copyright issues, white collar criminal defense, securities litigation, civil rights, and religious liberty.
Passionate about pro bono service, Chava formerly served as the pro bono associate for the firm's New York office, developing and coordinating pro bono efforts. A highlight of her pro bono work includes successfully trying, through appeal, a long-running fair housing lawsuit challenging polices that perpetuate residential segregation in the New York suburbs, an important victory for fair and affordable housing with nationwide impact.
While in law school, Chava served as an Alexander Fellow in the chambers of the Honorable Shira A. Scheindlin of the United States District Court for the Southern District of New York.
Awards and recognitions
2014-2018
Rising Stars
Washington, D.C. Super Lawyers
2013-2017
New York Metro Rising Stars 2013
New York Super Lawyers,
Education and admissions
Education
J.D., Benjamin N. Cardozo School of Law, cum laude, Order of the Barristers, 2008
M.A.T., The City College of New York, with honors, 2005
B.A., Barnard College, magna cum laude, 2003
Bar admissions and qualifications
District of Columbia
New York
Court admissions
U.S. Court of Appeals, Second Circuit
U.S. District Court, Eastern District of New York
U.S. District Court, Southern District of New York
Representative experience
Represented mortgage loan investor in putative class action alleging violations of state lien release recording statutes, implicating millions in statutory damages.
Secured dismissal, affirmed on appeal, of class action complaint alleging FDCPA violations stemming from language and figures used in a statutorily required debt validation letter.
In a matter of first impression in the Second Circuit Court of Appeals, achieved victory in federal foreclosure action that also clarified issues of diversity jurisdiction and corporate citizenship for national banks.
Advised small foreign government regarding implementation of mortgage relief programs in cooperation with locally operating banks, and assisted in drafting foreclosure-related legislation and consumer financial protection legislation and regulations surrounding short-term lending.
Represented a loan servicer in Consumer Financial Protection Bureau (CFPB) investigation and enforcement action and related state regulator inquiries relating to loss mitigation practices.
Advised loan servicer in connection with self-disclosure, resolution and remediation of improper fee assessment and collection issue.
Represent residential mortgage lending and servicing industry in defense of hundreds of claims arising out of residential mortgage loans, including complex foreclosure litigation and portfolio-wide risk assessment and strategy.
Routinely advise mortgage industry clients on loss mitigation practices and procedures and compliance with federal and state mortgage servicing regulations, particularly those governing foreclosure, bankruptcy, and loss mitigation.
Advise residential mortgage lenders on portfolio-wide statute of limitations risk issues stemming from drawn-out foreclosure crisis, and defend statute of limitations-based claims to discharge aged defaulted mortgage loans.
Successfully defended mortgage industry clients, through appeal, in mass actions asserting violations of mortgage-backed security trust agreements.
Secured dismissal, affirmed on appeal, of putative class action asserting RICO violations in connection with wrongful foreclosures.
In scores of cases where mortgage loan borrowers allege bad faith negotiation by loan servicers in court-supervised residential mortgage foreclosure or bankruptcy mediation and loss mitigation proceedings, assist mortgage loan servicer clients in de-escalation, resolution, and if necessary, pursuit of reversal of sanctions orders.
Secured dismissal of complaint against a reverse mortgage lender alleging violations of Department of Housing and Urban Development (HUD) pre-foreclosure counseling regulations, establishing that there is no private right of action under the relevant HUD regulations.
Secured reversal, on appeal, of trial court's dismissal of reverse mortgage foreclosure action based on incorrect interpretation of applicable HUD regulations regarding "triggering" default events.
Appellate representation of executive of major reinsurance company convicted of securities fraud.
Appellate representation of Cayman affiliate of leading accounting firm in securities fraud action by alleged victims of Bernard Madoff's Ponzi scheme.
Drafted merits stage Supreme Court amicus brief in marriage equality case.
Drafted merits stage Supreme Court amicus brief in religious liberty in employment case.
Obtained order of protection for pro bono client threatened by father of her child.
Represented music performing rights organization in several appeals involving copyrights in downloads and royalties for music streamed online and to mobile devices.
Successfully defended beverage company in employment discrimination trial before New York Division of Human Rights.
Won, after trial, and secured affirmance on appeal, of zoning discrimination lawsuit under the FHA against Long Island village on behalf of pro bono affordable housing developer client. Secured favorable settlement of parallel housing segregation lawsuit against Long Island county.